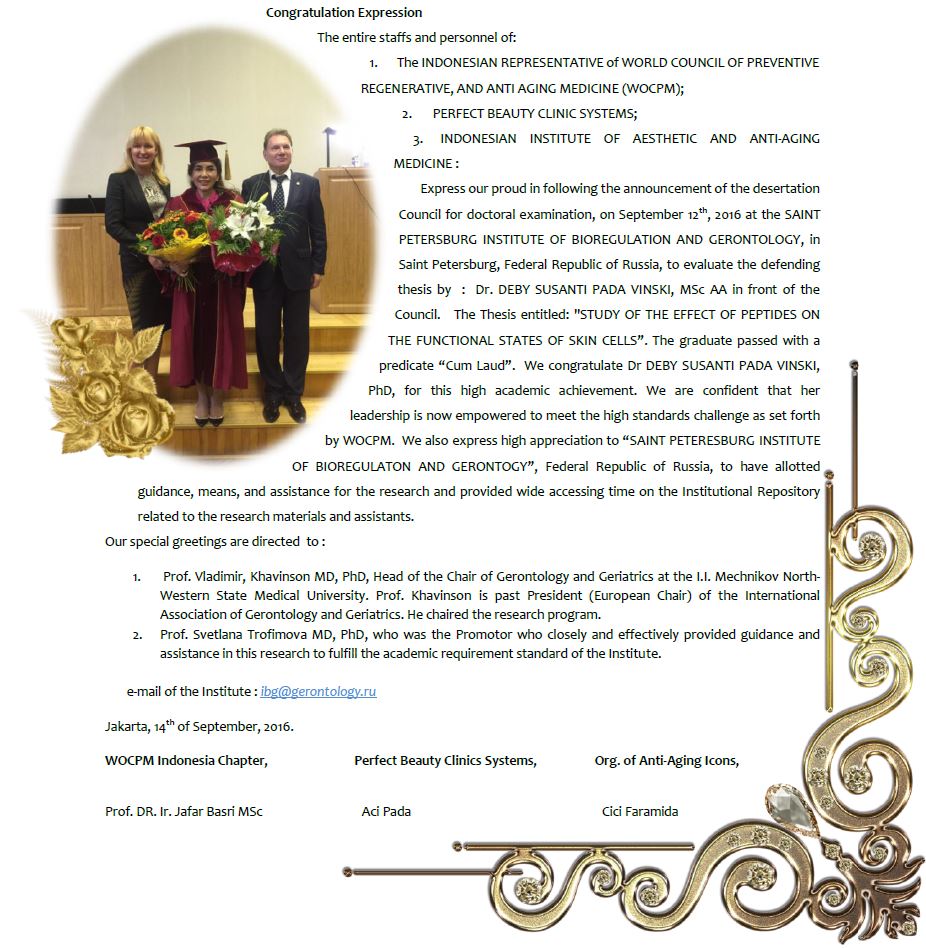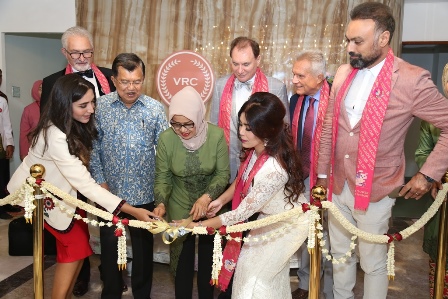 VINSKI TOWER - LAUNCHED!!!
Inaugurated by His Excellency Vice President of Indonesia / WOCPM Advisor Drs. H. M. Jusuf Kalla

At Perfect Beauty Aesthetics and Anti-Aging Clinic our objective is to improve both your health and appearance. This results in your feeling better about yourself as well as becoming more confident in your work and social activities. Your quality of life will improve and those around you will take due notice. We mobilise all aspects of anti-aging and aesthetic (cosmetic) medicine to attain your goals.

Stemcell Cooperation Meeting
Prof Dr. Dwia A. Tina Pulubuhu, MA (Rector State University Hasanuddin), Dr. Deby Vinski, AAMS, MScAA (President of WOCPM and Owner of Perfect Beauty Clinics), Prof. Dr. Ir. Jafar Basri (Senior Adviser of Country Reps. WOCPM and International Director of IIAAAM) and Ms. Ira Gokal (Foreign Affairs IKA SMANSA) in Casa Deby Vinski Jl. Metro Pondok Indah TC 6 in Jakarta, Indonesia.
Visit of Prof.Dr.Dwia A. Tina Pulubuhu, MA, Rector of State University Hasanuddin form Makassar to one of the three clinics of Dr. Deby Vinski's in Pondok Indah. Purpose of the visit was to discuss on the cooperation of stemcell establishment and mutual program implementation between the Medical Faculty of the University with the World Council of Preventive, Regenerative and Anti Aging Medicine (WOCPM) where Dr. Deby Vinski is the President. Dr Vinski was also asked to act as Senior Advicer in the Anti Aging Program of the University. She was also invited to attend the inauguration of stem cell event, on 2nd Mei, 2015, on Hasanuddin campus, beside setting her schedule to speak on a Seminar Stem cell International in Hasanuddin University in October, 2015. Dr. Deby Vinski, welcome and provided positive responses, and obviously need to match her busy commitments with some medical events in Europe.
ZERONA - Lipolaser - Approved by the FDA
ZERONA™ The first non-invasive body contouring procedure to effectively remove excess fat. Unlike invasive weight loss surgery, ZERONA™ is applied externally.
This revolutionary method provides results without the dangers associated with surgery, while at the same time allowing patients to remain active during treatment. The ZERONA™ protocol utilizes Erchonia®'s patented and clinically proven low-level laser technology.

TESTIMONI

Mr. Basoeki Sigit (76thn)

Tanggal 9 Januari 2014 saya datang ke klinik Perfect Beauty Dr.Deby (gandaria), waktu itu keadaan saya dalam keadaan menggunakan kursi roda, mengeluhkan sesak napas dan kurang nafsu makan (lemah). Setelah konsultasi di Dr. Deby dan menjalani terapi yang diberikan. Dr. Deby kepada saya seperti terapi Male Vitality, Steam Cell, dan obat-obatan lainnya selama kurang lebih 2 bulan, sekarang keadaan saya dalam kondisi yang sangat memuaskan dari keadaan semula. Sekarang saya tidak menggunakan kursi roda lagi, nafsu makan saya mulai kembali normal, daya ingat juga sudah mulai membaik, dan saya sekarang sehat dan bugar. Kami sekeluarga mengucapkan puji dan syukur atas Pengobatan Dr.Deby dan kerjasama segenap perawat yang sabar merawat saya.
Mesotherapy

Mesotherapy is a medical speciality, pioneered in 1952 by the French physician Dr. Michel Pistor, whereby medication is injected into the mesoderm, the middle layer of skin, using micro-gauge needles (0.4mm or the diameter of a hair).
Over the past 50+ years, more than 15,000 physicians world-wide have used Mesotherapy on a daily basis for a variety of purposes, including overall weight loss, spot weight reduction, cellulite reduction, hair loss, scar correction and wrinkle elimination.

HGH Therapy

HGH Therapy brings an overall sense of well-being to the whole body. Once again you experience the energy and stamina of your youth and enjoy improved memory. Your skin appears refreshed, visibly younger and with better tone. Deep sleep helps you function more efficiently and body fat decreases.
Bones are strengthened and muscle mass increased. You can live life to the fullest with a stronger immune system and an increased libido.